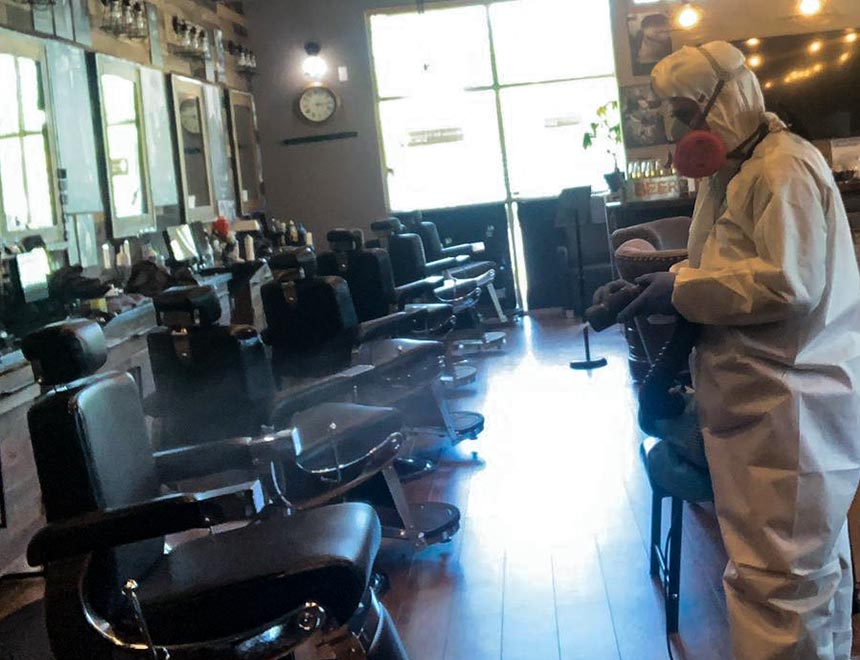 Sanitizing And Disinfection Against The COVID-19 Pandemic: Will It Work?
COVID-19's wide spread throughout the USA is by far most prominent per capita as compared to any other country in the world today. As of June 21, 2020, there are over 2.32 million confirmed cases and over 122 thousand deaths caused by the coronavirus in the USA alone, accounting for approximately 27% of all COVID-19 related cases that have been registered worldwide.
The advice from our government has been clear - keep great personal hygiene and keep a distance six feet away from anyone who isn't living with you. However, is that enough to keep this deadly virus away from you and your loved ones?
Due to its high rate of contagiousness and the way the virus spreads from person to person, many businesses and homeowners have recognized the importance of regularly availing themselves of cleaning, sanitization and disinfection services for not only their homes but office spaces, work stations, equipment and more in the attempt to eliminate any potential traces of the virus.
What Is Disinfection & What Are The Different Types Of Disinfection Services?
For those unaware of how such services can help you stay protected, by definition, disinfection refers to the process of cleaning something, especially with a chemical, to destroy potentially harmful bacteria so you eliminate the threat immediately for all people in the surrounding area.
When it comes to deciding on a cleaning service for your home or business, you need to know which one to choose as three popular options sound rather similar but are used for different cases.
Disinfection: Disinfection services are mostly used for the elimination of potentially harmful viruses, diseases, and bacteria. These can be present in crime scenes, mold growth, and coronavirus affected sites. Most disinfection services use government-approved chemicals and hi-tech equipment to successfully remove any health threats.
Decontamination: Decontamination refers to the neutralization or removal of dangerous substances, radioactivity, or germs from an area, object, or person.
Sanitization: Sanitization refers to the process of maintaining cleanliness and dealing with sewage.
How Can Disinfection, Sanitizing, and Decontamination Help Me Against COVID-19?
So, how can professional services help you in the battle against the coronavirus? Below, you can take a look at the benefits both for private homeowners and businesses that are looking to return to normal.
The benefits of a disinfection service against COVID-19 for a residential home:
Providing an extra layer of protection for your loved ones, especially those who are at higher risk.
Affordable and will hardly take more than a few hours to disinfect your whole home.
Extra peace of mind during such difficult times.
The benefits of a disinfection service against COVID-19 for a business:
Keep employees safe, eliminating the risk of losing your workforce or potentially postponing your entire business operations due to quarantining your whole team.
Your employees will feel more comfortable returning to work if they know measures are being taken to keep them safe.
It is cheap, reliable, and is likely to only take a few hours, depending on the size of your office space or building.
Where Is Disinfecting Most Important?
Here are a few examples that will give you an idea of where disinfecting is most important and for which you should hire a disinfection service:
Your office space (surface areas, work stations, escalators, floor, restrooms, equipment and more)
Your residential house or apartment (kitchen, living room, corridor, restrooms, surface areas, and other).
Your vehicle or working van (especially important if it is used by different people throughout the day/week).
Hire Professionals For a Guaranteed Safe Living And Working Environment
If you haven't yet taken advantage of commercial disinfection services during the pandemic, your office space may contain bacteria and viruses that could be potentially harmful to you or your employees.
In the battle to prevent the further spread of COVID-19, our excellent team of sanitizing experts from Hardwood Revival deal with coronavirus decontamination and other such disinfection solutions to assist citizens across Northern Virginia, Washington DC, and Maryland and provide them with a safer living and working environment.
So, if you want to avail yourself of a residential cleaning service to protect your loved ones or desire to keep the bacteria away from your office with our coronavirus cleaning solution, please call 888-647-2123 to book an appointment at your convenience.