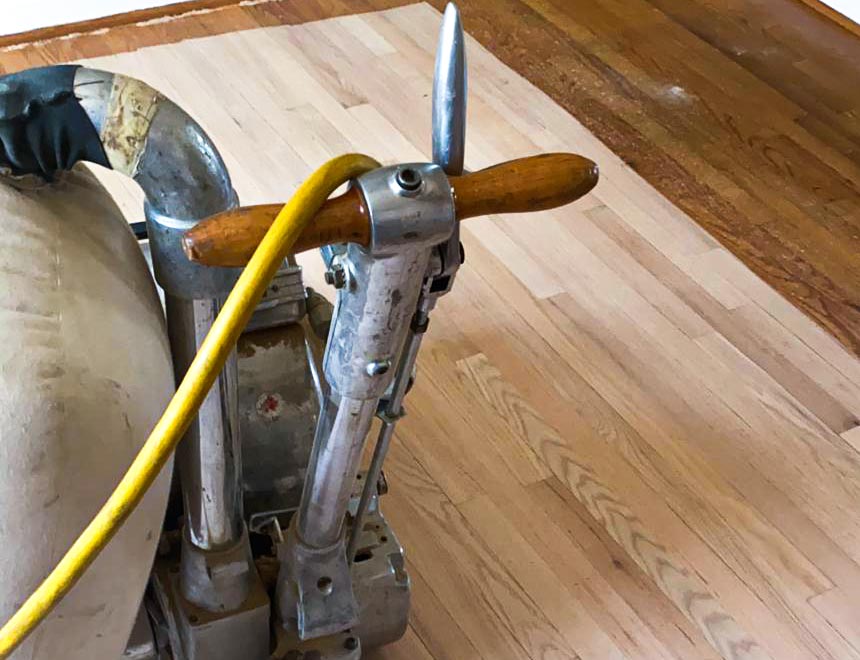 The Difference between Hardwood Floor Buffing and Sanding
Thinking of buffing or sanding your hardwood floor? This article will help you differentiate between the two and decide which one works best for you.
Most commonly, wood flooring refers to any product resulting from timber that is specifically used for flooring. It can be either structural or aesthetic. Flooring structures made from wood arrive from manufacturers in different colors, styles, cuts, and species of wood.
Planks milled from a single piece of timber are what is considered best to make hardwood floors. The use of hardwood to construct floors has gained popularity worldwide because it has so many benefits:
Durability
Easy to maintain and clean with a dust mop and floor scrubbers
Easy to install
Quality look
Helps support healthy indoor air quality
Offers better acoustics
Increases home values
The appearance of the hardwood floor defines the beauty of a home. To improve the quality, that is now where buffing and polishing come in.
Buffing and screening
Buffing wood floors gets rid of minor scratches or scuffs to give the floor an attractive and shiny luster that can last for years. Although buffing might look simple and affordable, it consumes a lot of time. When quality buff and coat is applied to a hardwood floor, it yields an attractive look.
Screening is similar to buffing. They mean almost the same thing. They all refer to scuffing up or abrading the floor. Floor buffing & screening is done to prepare the floor before you apply a coat of polyurethane, which is meant to protect the floor as well as make it have a sheen.
Floor screening and buffing smooths the floor. Furthermore, it restores the glow and refreshes the floor's look.
Buffing should be given a priority over other processes because it leaves the wood of the floor intact, and replenishes the finish. Hardwood floor buffing increases the durability of the floor. Plus, it protects the floor from regular scratches. How long you should go between buffing your floors depends on the traffic that the floor gets every day. In many cases, hardwood floors will need buffing once every three years to keep them in great shape. Our experienced technicians follow correct floor buffing procedures, to expertly improve the appearance of your floors and protect them.
Pros of buffing
It restores the beauty of hardwood floors.
It preserves the color of hardwood floors.
It extends the life span of hardwood floors.
Cons of buffing
Requires experience to correctly apply a new coat of polyurethane smoothly and correctly.
Buffing is not a cure all; if there is damage to the wood or discoloration, buffing will not correct these problems.
Sanding and polishing
The process of floor sanding refers to removing top surfaces of the wooden floor by use of abrasive materials. Hardwood floors should only require sanding when the finish has been completely worn through in any location, or to repair deep scratches or other damage to the wood. The floor Sanding & polishing process involves three major stages:
Preparation
Sanding
And lastly, coating with a protective sealant.
Pros of sanding
Improves the value of a home. Sanding increases a home selling value because it makes the floors look beautiful and attractive.
Removes damage that occurred to the floor over time and thwarts further damages.
Gets the floor clean and smooth. It makes cleaning easy. It also removes scratches and dents, hence no place for debris to settle.
Cons of sanding
It requires a lot more time than buffing.
It can be dusty, but your technician should be able to clean it up very nicely.
Sanding should be done sparingly since it removes a thin layer of wood from the floor boards. There is a limit to how many times a wood floor can be sanded before it needs to be replaced.
Floor sanding and polishing maintain the floor and keep it attractive all the time. It is similar to floor burnishing which shines the floor.
Feel the difference
There is a clear difference between floor buffing and sanding. Sanding gets rid of damaged polyurethane sealer and part of damaged wood. Sanding involves the restaining of planks and sealing them with a new coat of polyurethane.
In contrast, buffing only involves polyurethane sealer and does not touch the wood. It does not touch the wood because damage may be contained by this protective layer.
Buffing and sanding bring back the original look, and it may increase the value of a home. Always contact professionals with a high level of expertise to help you with this.
Hire A Pro
For excellent floor buffing service, contact our experienced professionals from Hardwood Revival via the number 888-647-2123 who will help you in hardwood floor refinishing, installation, repair, and even sanitizing and disinfecting. We have technological buffing machines such as the rotary floor buffer, which is a high-speed buffer, and it works efficiently. We buff floors at an affordable price. Contact us for an estimate on refinishing your wood floor.