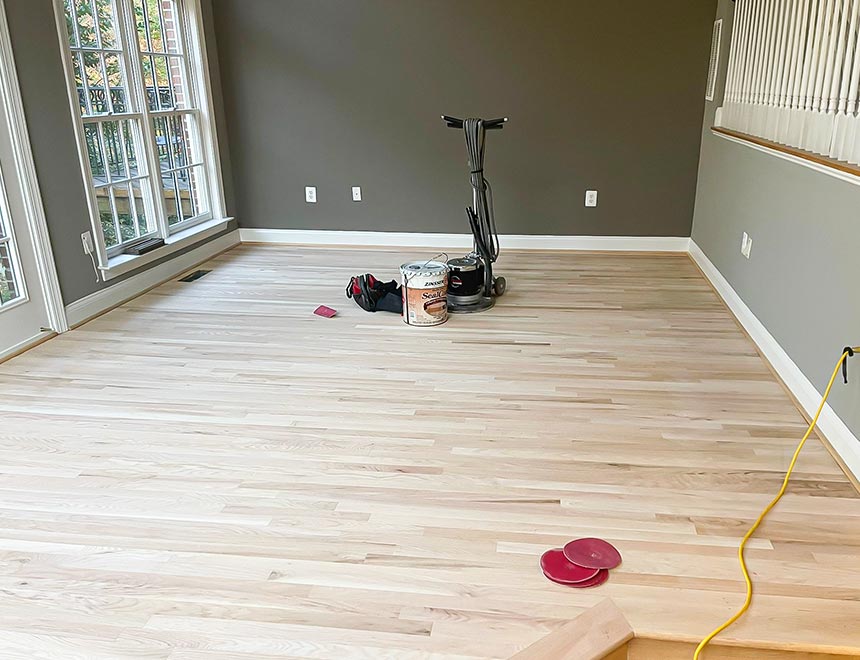 Why Look for Professional Services for Your Hardwood Floors?
Several elements make your home more appealing, and one of them is flooring. The right kind of flooring adds to the beauty of a room, but one has to be careful about its installation and maintenance. If you have recently picked out hardwood flooring for your home, you need a professional to take care of the maintenance for it. Lucky for you, Hardwood Revival offers top-notch services for your hardwood floors.
Our company has experts who treat your floors in the best way possible. Our specialists have years of training in the field. We ensure you get smooth and flawless floors in the shortest time possible. The best part, our team fixes your floors and guides you on how to protect them.
If you require any wood floor service, we are here to help you. Hardwood Revival can provide you with:
Floor installation and repair
Hardwood floor refinishing
Sanitization
Apart from these services, you can consult our technicians in other matters, too.
Why Can Your Hardwood Floor Lose Its Beauty?
With time your floor loses its shine. You are continuously walking on it and washing it. These activities cause the surface to wear out. Moreover, wooden surfaces contract and expand under extreme weather conditions and changing humidity. For example, turning up the heat in winter causes wooden surfaces to lose moisture content and shrink. Similarly, turning off the heating in the spring season results in wooden surfaces expanding. Repeating expansion and contraction leads to cracks.
Under such circumstances, you need to have your floors repaired or even replaced. In both scenarios, you need professional help. If you want to make your flooring smooth like it was once, you must opt for timely hardwood revival services. Similarly, discoloration is a common problem that negatively impacts a floor's look. To regain your floor's smooth finish, you should book our floor refinishing services. The results will amaze you.
Disadvantages of Bad-Looking Wood Floors
Wooden surfaces lose their shine and become problematic for house owners. The entire room loses its beauty and becomes dull. No matter how well-decorated or brightly colored your room might be, a poorly maintained wood floor surface will always create a poor impression.
Bad-looking floors not only look unappealing, but they can also lead to other issues. The main problem you will experience with poor-looking floors is microbe growth. Bacterial colonies will develop on the cracked surfaces. In addition, if water accumulates in these cracks, you can expect a mold contamination issue.
The presence of water further deteriorates the condition of the wooden surface because there is no covering to protect the inner layers. Once the process of wear and tear starts, you can expect your wooden floors to give off all sorts of noises. Even walking lightly on your floor will produce an unbearable creaking sound.
So as you can see, the problems of a poor-looking floor are quite a lot. Opt for timely professional repairing services to prevent inconvenience to you or your family.
Restoring Dirty and Dull Floors
Instead of wasting time or using DIY methods, homeowners should call for experts. Professional cleaners remove every bit of dust from every corner. Whether your flooring has spots, stains, or dirt, our technicians remove them. If you don't act fast, you won't be able to save your floor. Often dirty and dull floors develop tiny scratches which do not look appealing.
So do something to save your expensive investment. Cleaners will wipe off all the dirt and replace damaged pieces on your flooring. These guys even polish surfaces for the best results. When cleaned in time, your floors last much longer, and you won't need to replace them in the long run.
Why Choose Hardwood Revival for Professional Services?
When the matter concerns your hardwood flooring, you must choose the best. Flooring is expensive, and you can't trust just anyone to care for yours. Therefore, Hardwood Revival comes to your rescue. Our firm provides you with professional cleaners and satisfactory services. Here are some of the benefits of working with us.
The best technicians in the area
Unlike any other firm, we don't hire inexperienced people. All of our team members are the best choices in the entire town. These workers are respected and know how to manage complicated tasks. When our team attends to your problems, you can be confident the results will be according to your expectations.
Licensed and experienced specialists
Our entire team is trained and qualified to perform their job. One should never opt for firms that have unqualified cleaners. We make sure every team member has at least a few years of experience and we also enroll our team members in different courses to keep them connected with the latest trends.
The local team who reaches you in the shortest time
When you trust us with your flooring, you don't need to worry about anything. Our team has locals who come to your aid in minimum time. In most cases, we dispatch a unit the same day a client books our services.
Modern equipment
We focus on using modern equipment that provides better results and makes the job take less time. From modern vacuums to the latest buffer machines, everything at our firm is according to modern-day needs.
Eco-friendly supplies
Along with clients, we consider the environment. That is why our focus is on eco-friendly supplies. These chemicals do not emit harmful fumes and are safe to use in homes.
Our Cleaning Services for Your Hardwood Floors
With us, you can get the following services:
Deep Cleaning of Wood Floors
Through deep cleaning, you can expect the shine of your floor to return immediately, with the removal of all ground in dirt making your floors look dull.
Screening for Wood Floors
During hardwood floor screening, we don't remove any wood. Instead, our team takes out the top layer of polyurethane only. This way, the cleanup becomes less messy. The old polyurethane is replaced with a new one, and your floor shines brightly.
Wood Floor Recoating
If you wish to change the overall appearance or color of your wooden flooring, avail our wood floor recoating services. We renew the polish and paint to make the floor look brand new.
Booking the Best Team for Your Hardwood Flooring
Your hardwood floors need as much attention as any other part of your home. It costs thousands of dollars to get your favorite flooring options, and you can only protect your investment when you opt for timely maintenance. With time your floors will develop cracks, the shine will disappear, and other issues will start to show. The only way out is to call an experienced team who can deal with your hardwood floor surfaces.
So trust the experts at Hardwood Revival and call us to communicate your issues. We send a team to your location with all the necessary supplies. The best part, you can discuss the entire process with our cleaners so you know exactly what to expect. Call us at 888-647-2123 to book a slot for your floors today.