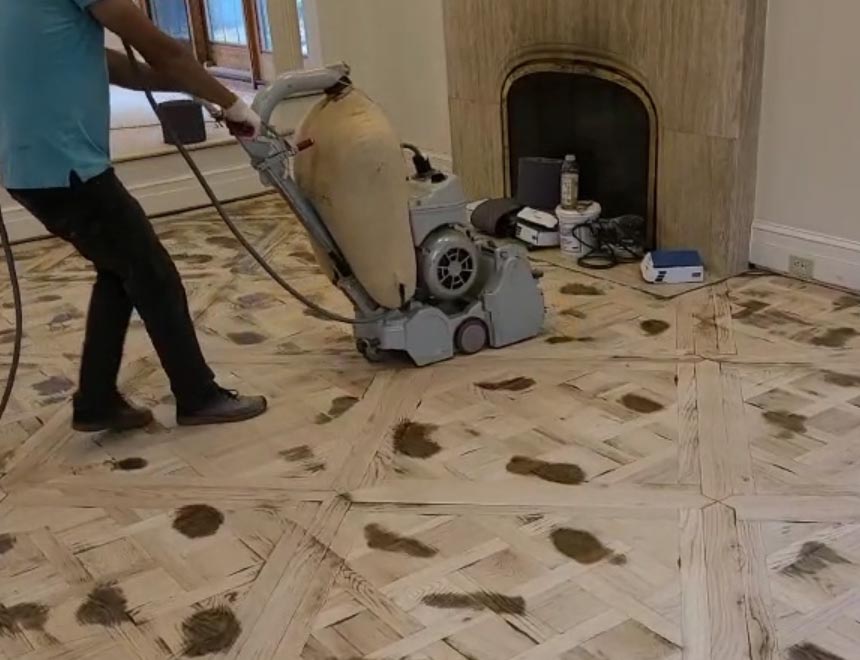 Why It's Time to Replace Your Hardwood Floors
Hardwood floors are beautiful and long-lasting. When properly maintained, you can expect them to last 20 to 30 years, and some still look great after 100 years. But even though hardwood floors are more durable than most types of flooring, they don't last forever. Eventually, there will come a time to replace your hardwood floors.
Hardwood floor problems can be attributed to a variety of factors, including ordinary deterioration from everyday wear and environmental conditions. Extraordinary cases like pest infestations and water damage can also lead to hardwood floor problems that can't be ignored.
Damage Due to Wear and Tear
Damage to your hardwood floors caused by normal wear and tear can be minimized with proper care and maintenance. However, there will come a time when your hardwood floor problems cannot be overlooked. Noisy floorboards can be annoying, and damaged wood is unattractive. More importantly, damaged wood floors can be unsafe, especially when you have problems like splintering wood and nails peeking through. When replacing hardwood floors is your only option, let Hardwood Revival help you upgrade your space with installing new hardwood floors.
Creaking or Moving Floorboards
Whether it's seasonal changes in the weather that cause wood to swell and shrink or structural issues that are making your floor move, hardwood floors can get noisy after years of moving and flexing. Noisy hardwood floors are one of the first signs of hardwood floor problems, and they will eventually lead to safety issues that can't be ignored.
Splinters
Splinters on hardwood floors are usually caused by water damage, scratches from moving furniture, or poor installation, but in many cases, splintering results from normal wear and tear. Sanding and refinishing your floor can give it new life and take care of your splinter problem, but that's not always possible with old floors.
Nails Peeking Through
Nails peeking through or popping out of the floorboards is another big safety issue. Over time, changes in moisture and temperature, combined with the vibrations caused by foot traffic, will cause nails to work themselves loose. Driving them back in is only a temporary fix at best, and if you have a lot of nails coming loose, it's a sign that your hardwood floors need to be replaced.
Aging Materials
Hardwood floors get hit with everything from furniture scratches to spilled juices, and after years of abuse, the aged wood deteriorates. With our refinishing services, your hardwood floors will turn back to the perfect appearance. Our techs will fix all the scratches, scuffs, and dents on your floor.
Foot Traffic
Foot traffic is a common cause of wear and tear damage on hardwood floors. After several years of traffic in the same areas, the wood will get damaged and worn by the dirt on people's shoes, causing damage that needs to be fixed.
Damage Due to Environmental Factors
Environmental factors like sunlight exposure cause visible damage that isn't covered by your homeowner's insurance policy. At Hardwood Revival, we can help you repair the damage before the problem becomes embarrassing or irreversible.
Color Changes
There is a trifecta of light spectrums that cause fading, bleaching, and darkening on hardwood floors.
UV rays
Infrared light
Visible light
Of these, the most damaging spectrum of light is UV rays, which cause hardwood floors to fade, change colors, and crack. UV radiation can also damage the finish on your hardwood floor, causing it to darken or turn yellow.
Greying
Greying happens when floors without adequate finish are exposed to direct sunlight. The sooner you fix them, the better your chances of being able to restore them to their former glory without having to replace them. Contact Hardwood Revival to find out if it's too late to restore your greying floors.
Damage Due to Other Factors
Your floors can be subject to damages caused by extraordinary events that no one could prepare for. If these events happen to you, contact us so we can help you resolve the problem quickly.
Pest Infestation
According to the National Pest Management Association, termites cause over $5 billion in annual property damage in the United States. Your hardwood floors could also be plagued by carpenter ants, powder post beetles, and other bugs. When these pests move in, they can destroy your floor and cause irreparable damage.
Water Damage
Warping and buckling caused by water damage is another sign that your hardwood floors must be replaced. If you have a severe water damage problem, and you don't address it in a timely way, it's not likely that your floors can be restored. At this point, replacing your hardwood floors is your only option.
It's Time to Fix Your Hardwood Floors
Life happens, and at home, many of life's events happen on your floor. They make your home shine and look beautiful for years, but you can't expect them to last forever without proper care. When you want bring back an amazing look to your hardwood floors, contact Hardwood Revival and we will do all our best to make your floor shine again.