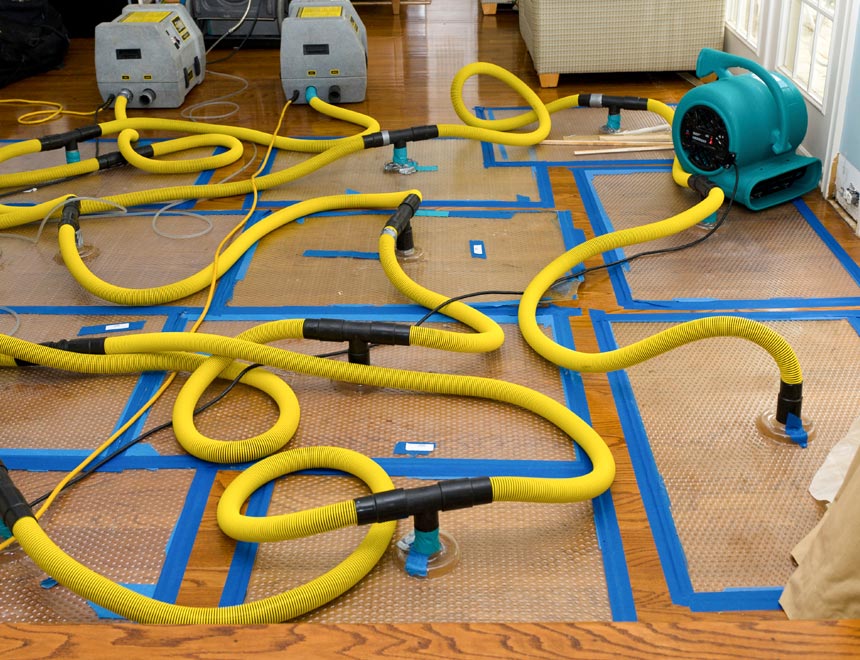 Wood Floors and Water Damage Restoration and Repair
One of the most frustrating things that can happen to anyone is coming home and finding out the floors are flooded with water. It is even more frustrating if you have wooden floors. As many homeowners find out, restoring and repairing water damaged wood floors is something more complicated than one would expect, and a job better left for professionals.
Water Damage Happens. Be Prepared.
By saying "be prepared" we don't mean you should keep a water damage company on speed dial, but rather know how to prevent the water damage, or at least some of it. One of the most common residential water damage causes is a dishwasher or other home appliance breaking, and the water from it flowing out and on to the entire house. You can't expect that to happen, but you can be able to make sure to maintain the wood floors and pipes to keep the water away, right?
First of all, at least once a month check all faucets and visible pipes, so you know if there is even the smallest leak. But that's a general tip you should know whether you have wood floors at home or not.
The Wood Floor Finishing Saves Your Floors
It's important to know that your wood floors are protected from water. Polyurethane and other coating substances are meant to protect your floors from fluid of all sorts, especially from the occasional spills. The polyurethane prevents water from getting to the wood itself, and although it is not completely water proof, it will help protect your floors.
Cleaning the wood floors with the right materials that will make the polyurethane finish last longer is very important. In addition, checking if your floors' finish is good every few months is a good idea, especially in high traffic areas. Even though a polyurethane finish should last 10-15 years, sometimes it may last a lot less. Moreover, like any coating, it wears out over time and the more traffic there is on it the more it wears out.
Water is bad for your floors even if the finish is intact, and in great condition. The occasional spill can be cleaned easily, but more water will eventually enter the wood floor, the crack between floorboards, or the shoe trims at the edges. The water will cause a discoloration (which is sometimes reversible) but in worse cases will also distort the floor panels and that's a bigger issue.
How to Identify Water Damage to Your Wood Floor?
Water damage isn't always noticeable. Sometimes it's hidden in the walls, or in a crawl space we rarely check. In some cases, it may take weeks before we discover the water damage. However, with wooden floors it is easier to identify the water damage.
First of all, if the water are coming from above the floor, you'll see a puddle of water. If it's coming from a broken hose, faucet, dishwasher, or a refrigerator you'll see the water around the source, unless it kept flowing and then it will spread around the house. It's important to remember you may not see a lot of water in some cases, and then there are other signs for water damage.
Discoloration of Wooden Floors? Dark Stain? Could Be Water Damage
If water has entered your wood floors, you'll see evidence of it in the color of the floor. Wooden floors with water tend to have darker stains where the water was absorbed in to the wood. If the water keep coming, it will spread around the wood floor (either through the subfloor or the edges of the hardwood floor).
If you see a darker stain of the floor, it means you have water in the floor. The question now is how much water has hit your floor. If you find the source of the water and how long water was pouring out, you'll probably be able to estimate the amount of water that flowed in to your hardwood floors. If you can't find the source, you may want to call a professional water damage company. Another option (less recommended) is waiting a day or two, and seeing if the stain spreads. If it does, you've got a bigger issue than you think and you must call hardwood floors professionals or water damage professionals to find the water source, and prevent further damage to your floors.
Stop The Water From Flowing On Your Wood Floors.
If you haven't done it until now, you better stop the water source. If you're not sure where the water is coming from, close the water mains to your home and call someone who knows what they're doing - a plumber, a water damage restoration company, or your maintenance guy if you have one.
Want to know what to do now? Call Hardwood Revival and we'll guide you through the crisis and back to normal 888-647-2123