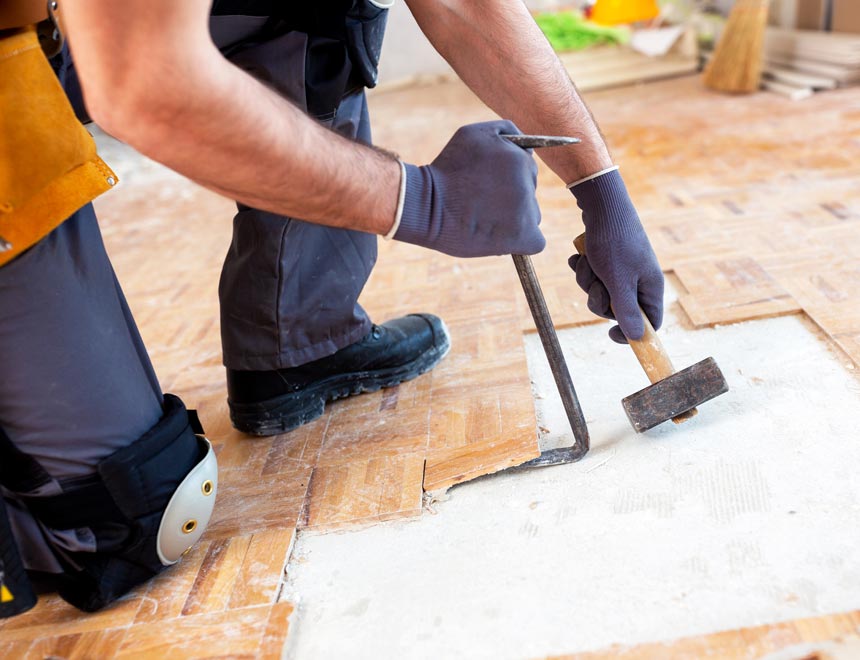 12 Things You Need to Know About Hardwood Floor Installation
Congratulations on choosing solid hardwood floors for your property! They are the most elegant type of flooring that will bring class to your home or business. Before you make the leap, there are a few things to know. You need to make sure all the rooms in your house are suitable especially in regards to a hardwood floor installation.
The cost as always depends on the premises. The average cost is between $1.50 to $5 per square foot, that could be anything from $150 to $1000 per room, again it depends on the size of the job.
Choose what you want carefully and make sure you know what you are getting. Once the floor is installed it's costly to rip them up and start again! Make a note of all the tools and materials needed as you need the right stuff for the job. Prep every room and clean out any clutter also make sure it's clean for the installers.
Going the DIY route? Then you better read instructions carefully and follow them to the letter, we can't emphasize this enough. A sure way to have a hard time installing your hardwood floors is doing it ad hoc. Are you gluing, stapling, or nailing down your floors? Think hard about this one as some methods are easier than others. Either work hard or hire a professional service to do it for you stress free.
Want more? Read on to get a detailed breakdown of each step:
Are your rooms suitable?

First things first, know where you want the hardwood floors in your home or business to be installed. Inspect every single room where you want them. Some rooms are not suitable for hardwood floors. Any area that constantly has water being used in a cleaning or washing capacity is not a good idea. This rules out kitchens, bathrooms, and laundry rooms. Don't fret though! Living rooms, studies, and even dining rooms are perfect for adding a touch of class with wood flooring.

Installation options

Once all the previous carpet & flooring has been removed, you can now look forward to installing your new floors! The method of installation is important to consider regarding your experience with installations. Nailing down floorboards is harder than stapling them down. Engineered wood floors however can be put down with glue, and the same also goes for parquet. A floating hardwood floor does not need nails, staples, or glue to be fastened. The floating floor connects together like a puzzle, so it is generally easier to put them down as you don't need to nail them. The disadvantage of floating floors is that they are thinner and less durable than traditional ones.

DIY or the professionals?

We admire anyone who considers themselves a handy man/woman and is willing to go the DIY route. You want to do it yourself and be proud of a job well done. We get it. However some things are just too much of a hassle to go it alone. The cost factor can be big, especially when you aren't sure of what you're doing. Winging it is risky as you could ruin the floor and injure yourself using the various tools. If you hire flooring installation professionals, you could save yourself time & hassle and still come out of it a winner.

Product instructions are important - read carefully!

In the world of DIY, instructions are your best friend. You're not a professional, so you need to follow product instructions step by step with no deviation. Read all instructions carefully as skipping a step will just make the job even harder. A nightmare scenario would be start just because you forgot to put underlayment over the subfloor!

Gather all necessary supplies (extra tools and materials)

Depending on your installation method there are some tools and materials you need to do the job successfully. A hammer and a pry bar are very useful if have to remove carpet tack strips. Get sheets of underlayment. They are needed to cover the subfloor and go under your boards. You'll need a carpet knife to cut up strips that go in awkward places. Rent or buy a miter saw that will be used to cut up boards for areas of the room where there is little space for a full board, like a doorway or closet. Last of all and most important, use a measuring tape!

Prepare the room/floor/surface

Before you or the pros move in to put the hardwood floors down, you must prepare every single room for the installation. Remove all furniture or general things from the room that will get in the way of the job. Strip off the current flooring you want to replace, be it carpet or old ruined wood floors, to make way for the shiny new ones.

Subfloor requirements

When you remove the old surface flooring it's time to prep the subfloor. The subfloor should be cleaned of any dirt or grime, taking care to leave it dry. The humidity levels between your new floor and the subfloor should be around 3%. To measure this, you will need to get a hold of a moisture meter like a Wagner pinless moisture meter. Next, put hardwood floor underlayment down. This should sit under your floorboards but above the subfloor.

Flooring acclimate

You might not have heard this before, but it can make the difference between a good and a bad hardwood floor installation. The boards need to acclimate to the ambient moisture of the room before installation. First off make sure the temperature and humidity of your home is balanced to acceptable levels. Take the boards out of all the boxes/packing and leave them to sit in the room from 24 to 72 hours, depending on the humidity of the room, before installing them.

During the flooring - follow the instructions and all recommendations

Now it's the part you've been waiting for...putting down your chosen hardwood floor. This is where you need to be extra careful. It's better to be slow and precise then do a rush job and have to start all over again. Follow procedures and instructions from professionals exactly is key. Each floor board is a critical piece of the puzzle to flooring a room successfully. If you haven't bought prefinished hardwood floors, then you need to get either water or oil based Polyurethane for after the installation, using a roller to spread it yourself. This in itself is a skill you must learn to do correctly.

Final steps

Congrats! You're almost at the finish line. With your floor down successfully, it's time to put the finishing touches to your masterpiece. With the hard work done the place is probably looking a bit messy and it could do with a good clean. Take care to clean off any residual glue that you have used, as it can get very grungy if not cleaned off thoroughly.

Floor maintenance tips (daily, weekly/monthly, time to time inspection)

With wooden floors you need to clean them often. If you have heavy foot traffic areas, especially near a door, it could be a good idea to put a small carpet for people to wipe their feet. Wood floors need to be swept at least daily, to remove dirt that could damage the finish. We would advise you to clean your floors at least weekly. Go easy on the water and use a soap solution with a small bit of vinegar to create a brilliant shine. Put soft felt pads under the legs of chairs to prevent scratches.

Final word on hardwood flooring

Before you decide to get new hardwood floors, take a close look at your current floors. If it's not the right time for a new hardwood floor installation, you can always refresh your current flooring.

You can do a total hardwood makeover by sanding and refinishing or screening, and recoating your floor with finish or waxing your floor. This is a total hardwood floor restoration topped off by a good old fashioned polishing.
At Hardwood Revival we can take care of everything you need when it comes to hardwood. We have a lot of experience in refinishing old hardwood floors making them look new. We can sand your floor and refinish your old hardwood floor all by ourselves. For those who like it brand new, we are experts in hardwood floor installation. We can advise you on the best type of wood and even advise on the possibility of waterproofing your floors. The flooring installation cost is competitive and you get value for expert knowledge with our teams of super craftsmen. Call us now at 888-647-2123 to get a free estimate.