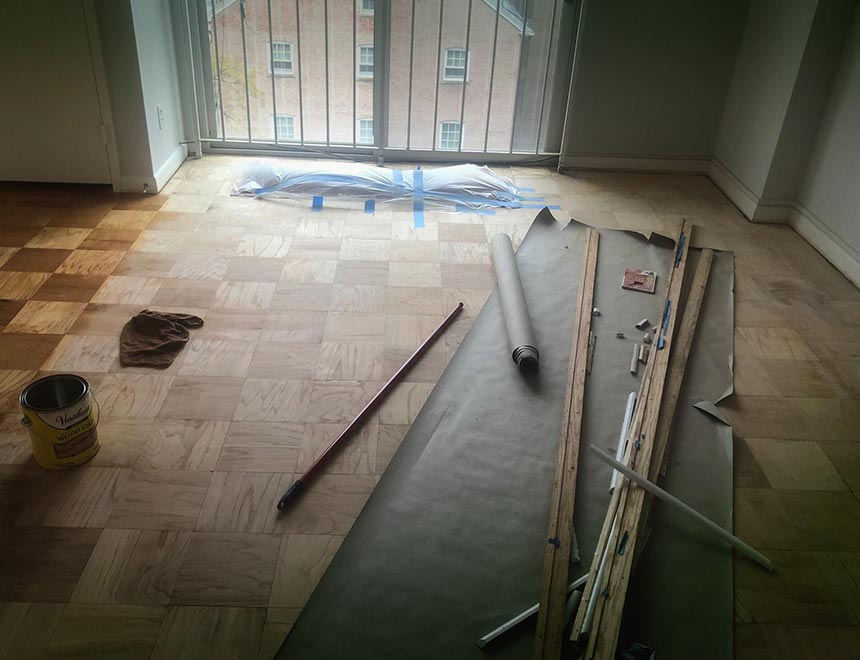 How to Choose & Install Hardwood Floor: Ultimate Guide 2020
Nothing is better than having hardwood flooring in your home or place of business. However, as nice as they look, you need to get through the ordeal of installing those hardwood floors first before you get to enjoy them. It's not as straightforward as you would think, so that's why we have put together a complete guide on how to install hardwood floors. While taking the DIY route is admirable, it can lead you down the path of taking on more than you bargained for.
Take this as a general overview to go over while the pros are hard at work. Hardwood floors look great and bring a touch of class to any home and are easy to clean, unlike carpet. They're also a great alternative for people with allergies. Unlike with rugs and carpets, dust and other allergens can be mopped up with ease from hard surfaces like wood floors.
DIY vs Professional Installation
Now, this is a question we know you've been mulling over. It's tempting to think that you can do it all yourself and bypass hiring a couple of professionals to install some solid wood flooring. While we admire your drive, you must realize that the odds are stacked against you. If you have no wooden floor installation experience, then you have a lot to learn. You need to consider the type of wood, and the number of boards for all the rooms and much more.
When you go DIY, making a mistake is costly. You might even get to a point where you have to rip up all the boards and start again. That's your time and money down the drain. A pro will do it at least twice as fast and twice as cost-effective. If you want it done right, you need to hire a professional.
What Type of Hardwood Floors Should You Choose?
You should thoroughly check the various types of hardwood floors before settling on one for your home.
Solid wood floors look the best and tend to be the most durable. They do however need to be looked after with care and attention, especially in high traffic areas.
Engineered hardwood floors are not heavily affected by big changes in moisture and temperature, so that is a plus. Unfortunately, they are prone to scratches and tend to look more worn out after a shorter period of time.
Laminate floors are very durable. They don't scratch and scuff easily. The drawback is that they don't look as good as the other options and can look cheap.
What Hardwood Type Should You Choose?
Here's the lowdown on the look and feel of various types of hardwood floors.
Oak is very popular; it's a classic choice because it's warm, inviting, and makes any place look homey. Beech is suitable for heavy foot traffic areas and can be great for commercial properties. Cherry and Brazilian Cherry are both superb choices if you prefer an exotic look for your property. Hickory, like oak, can hide wear and tear better than most types of wood. The difference between hickory and oak is that hickory is more expensive. Walnut looks super warm and chocolatey and can soften the mood of any room. It's perfect for a study area as it will foster a soothing atmosphere for deep thought and calmness. Birch is favored as the most natural wood look and is perfect for a country-style home.
What Type of Wood Finish Should You Choose?
The finish can determine the look, feel and durability of your hardwood floors.
Oil urethane-based finishes can create a deep warm look for your floor. It can take a long time to dry between coats, even over 12 hours. If you are not into the deep warm look for your floors, the water-based urethane is the way to go. It will leave a clear finish that won't hide the natural look of the wood.
Instead of a polyurethane finish, you can ask us to use penetrating oil sealer. This formula penetrates deep in the boards for ultimate moisture-proofing. This will not protect the wood from surface damage as well as a polyurethane finish will.
Flooring Decorative Options
The decorative options are limited only by your taste. Certain options will give a particular look:
Whitewashing floors, also known as the pickled floor finish: This lightens up the wood several notches, allowing the natural grain of the wood to shine through. It can brighten up a room.
Antique: Like the name suggests, it can give that rustic classic look from the movies to your floors. This look is achieved by using aged wood.
Border: These decorative edges add an artistic flair. The outer part of the floor is surrounded by a border pattern. You can get creative with this and use custom designs in your borders.
Medallion: This decorative piece can be the centerpiece of the floor. They can be as simple or complex as you like. Medallions can make your floor look like something out of a royal court.
What Are The Different Flooring Patterns/Layouts?
The patterns you choose will give a certain look and feel to your property. Here's a quick breakdown of each type:
Straight

This is the standard pattern you would find for hardwood floors, where boards of the same width are aligned in parallel across the floor. You can't go wrong with this option, as it's the classic style when it comes to flooring.

Random

If your style is more creative and unconventional, then consider a more personalized look; Different size boards of length and width are put together to give a unique look to your flooring.

Diagonal

While not as different in appearance as the random pattern style and not as conventional as straight, diagonal patterns add a twist. It can make a place look more classy, like a luxurious penthouse.

Parquet

The parquet style is made up of a series of square boards that look similar to tiles, but can be turned sideways compared to the tile next to it, to create a unique pattern. The different combinations of wood patterns are only limited by how different you want it to look.

Herringbone

This style is like a mini version of the diagonal pattern style. A series of boards are laid out like arrowheads giving a rustic look to your rooms.
Methods of Installing Hardwood Floors
Now let's get down to the nitty-gritty. How do professionals make those hardwood floors stay in place? Here are the most common methods:
Glue

Yes, this method is sticky. A lot of glue is placed between each floorboard like a jigsaw puzzle and left to set until securely joined for a rock solid installation.

Nails

This, of course, involves lots of nails and a hammer or nail gun. The position of the nails has to be exact to fasten the floor properly.

Staples

Staples are used instead of nails using a staple gun. An air compressor is needed to use most staple guns. Staple guns are dangerous if used improperly by untrained people.

Floating

Floating floors have specially shaped boards, designed to slot in together like a puzzle. No glue is required. There is a tradeoff as they are just not as durable and strong as all the above options.
How Do You Prepare for Floor Installation?
The rooms have to be cleared of clutter and furniture. The old flooring must be removed, whether it is carpet or old ruined floors. After the old surface has been removed, the old underlayment is taken away and new underlayment placed as the old one may not be adequate. With underlayment down, the boards can now be finally laid and then the finishing can begin.
What Tools Are Used When Laying Hardwood Floors?
When it's time to install hardwood floors, an arsenal of tools is needed. In addition, you need real professional tools, not bargain-basement implements. With the correct measurements, some heavy-duty gear is needed. Cutting up the boards requires a miter saw. This saw is a dangerous piece of kit, and one needs to be careful as it's cutting power is impressive. Depending on which type of flooring you choose, you will need ample glue and nails to fasten it all down. Powerful nails or staple guns are essential to bolt down that floor. Like the miter saw, extreme care is needed if you don't want to end up with a nail through a hand or foot!
How Do Professionals Install Hardwood Floors?
Nobody knows how to install hardwood floors like a professional. At the start of every job, every room must be prepared before they can start to put down any hardwood flooring. A professional crew will remove all clutter from the rooms before starting any job. Good quality hardwood floor underlayment must be laid between the base floor and the boards. Failure to do this is the sign of an amateur job that could ruin the entire installation.
Professionals never rush a job and they don't cut corners. They will only leave a job when they are satisfied it's been done to the highest standard. Also, hardwood installation costs might even be more economical than going DIY and buying the tools yourself.
How Are Hardwood Floors Finished?
This process after hardwood flooring installation is the finishing touch, excuse the pun! If the finishing is off it will ruin the whole job. The floor is cleaned of any dust, glue, or dirt that may come with a hardwood floor installation. A special polyurethane coat is used to give a soft looking finish. Finishing a floor requires patience and skill that don't go hand in hand with a DIY job. Don't worry! Professionals like our teams will finish the floor to the look you want, so you can sit back and relax.
Why, When, And How To Refinish Hardwood Floors
We understand that sometimes a brand new hardwood floor installation might not be possible. The problem is that your floors have probably seen better days and need to be freshened up, that's when you get them refinished. We treat refinishing as professionally as an installation. It's tough work as we do a lot of sanding, buffing, waxing, and staining to get your hardwood floor looking as good as new. Hardwood floor refinishing is part of our unbeatable service.
Why Choose us? Here's Why
Hardwood Revival is proud to service the Washington D.C., Baltimore and suburban Maryland areas. We know all there is to know about hardwood floors, from repairs to brand new installations. We understand it's a big change. We can guide you through the entire process of deciding the look and feel of your hardwood floors. We can pleasantly surprise you with the installation cost, as we are competitive on price.
As for the rough work? That's what we live for. Our crews are seasoned pros that will make it look easy. From start to finish we make your hardwood floor dreams a reality. If you want gorgeous hardwood floors, you just need to give us a call at 888-647-2123 and we'll handle the rest because we are the best!