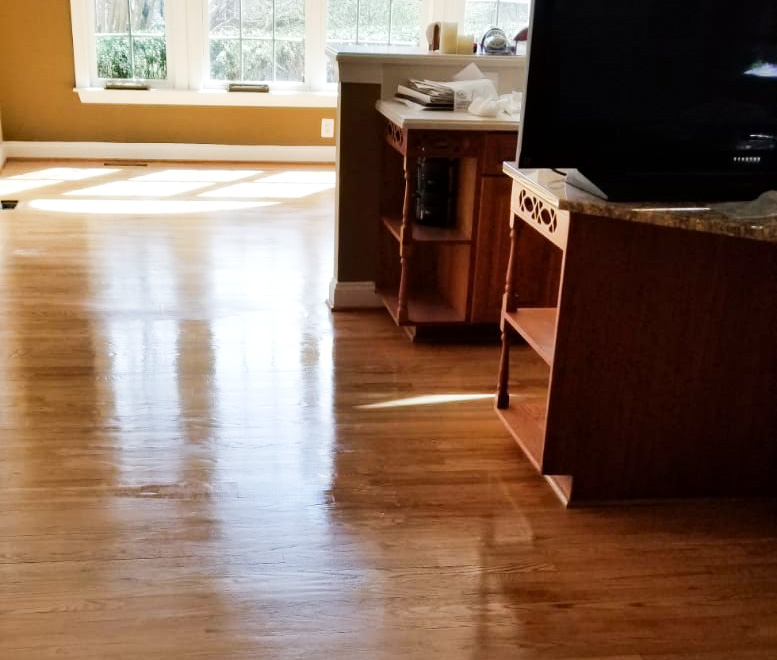 What is Hardwood Floor Refinishing?
The Steps of Hardwood Floor Refinishing
Preparation - Prepare the room for the floor refinishing. First, clear the floors. Move all the furniture and items in the room away. When you're done, make sure you remove anything fabric and anything that can grab the dust as well - drapes, pictures, register covers, lamp shades, covers, etc. In addition, you'll want to remove the shoe molding and make sure all the nails are out as well. One last thing is to cover any vents, doorways, light fixtures and anything you cannot clean easily from dust. Trust us, it's going to be a lot of dust. This also a good time to examine the floor and fill any holes or gouges in it with wood filler.
Sanding - You should rent sanding machines, or have someone come over to do the sanding. This is a simple step, albeit long and meticulous. You'll need 3 sanding papers - coarse (30-40 grit), medium (50-60 grit) and a fine 80-100 grit sandpaper. For each sandpaper level, sand with a machine, and don't forget to sand the edges and corners as well (with smaller sanders made for that). When you're done, vacuum the room and run a clean damp mop on the floor.
Buffing - If it doesn't feel smooth enough, you can use 120 grit paper, but there is no need in most cases. Buffing is mostly used when you only want to remove the coating and put on a new layer.
Cleaning - Once you're done sanding, vacuum the whole room to remove dust remains. After vacuuming, wipe the walls, windows and any part that isn't covered. At this point, you should wipe the floor with mineral spirits which will remove stains from the now exposed wood.
Staining - not necessarily needed, although should be noted - if you want to change the wood's colors, you need to use stain. Follow the instruction of the manufacturer to apply correctly.
Sealer - If you're not staining, a sanding sealer would be needed. Start at the farthest point from, and move your way back to the door. You do not want to be stuck in a corner because of staining or sealing in the wrong direction.
Apply Clear Polyurethane - Almost the last step. Polyurethane has a strong odor, so open up the windows and doors when you use it, and follow the manufacturer's instructions. Get your brushes ready - remove any loose bristles and excess fibers, so they don't get in the Polyurethane and stick to your floor. Using a smooth hand work and stable strokes, apply Polyurethane from the farthest point from the door and back your way out. When done, let the Polyurethane dry as needed (read manual to know how long). Then apply a second coat. In most cases, after the second coat you'll need a few days to dry.
Put everything back - being very careful, and making sure the Polyurethane has completely dried, bring the room back to its old design. Watch out not to drag anything on the floor and scratch the floors and all the hard work you put in to it.
If you aren't sure of one of the steps, you can ask at your local supplies store. Although we suggest you avoid starting a refinishing project if you're not sure what you're doing. A simple few hundred dollars job can turn in to a bad situation, costing you thousands of dollars instead. Make sure you know exactly what you're doing and how your floors should be handled. If you want a more in depth explanation of the process, check our explanation about wood floor refinishing, screening and recoating.
If you want the professional opinion and expertise, call Hardwood Revival at 888-647-2123. We'll be glad to come over and provide you with an inspection of the wooden floors, as well as a no obligation quote for quality refinishing of all the wooden floors in your home.